About Ridge Product Services
Ridge Product Services Limited was formed in 2019. However, we have over 20 years of experience designing and supplying flexible storage tanks to a variety of markets. This experience was gained through a multi-national company that no longer supply these products and so RPS was formed.
RPS can provide a unique service for you in designing a flexible Bladder Tank to meet your exact needs. Our Bladder Tanks are used for storing for most liquids including fuel and can also be used for biogas.
RPS products are made in the UK in an ISO9001 approved factory.
If you have a specific storage need then please give us a call.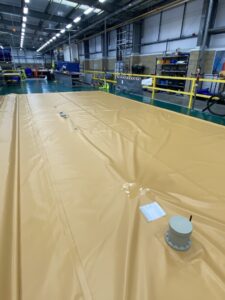 Pillow tank in manufacture.