Pillow Tanks
Here at Ridge Product Services, we are able to supply and manufacture pillow tanks to your exact specifications. Pillow tanks – also commonly referred to as bladder tanks – are a great solution to on-going water storage and transportation needs. if you require further information or would like to make an order, please get in touch with us today by calling today on 07824 690 143 or use our contact form and we'll get back to you as soon as possible.
Ridge Flexible Pillow Tanks, which are also known as bladder tanks, have been designed to store liquids from 1,000 litres to 250,000 litres. Our pillow tank design has been used successfully for many years to store product over short, medium and long terms of use.
These pillow tanks are manufactured in PVC (Polyvinyl Chloride), TPU (Thermoplastic Polyurethane) or a TPU/PVC blend. The material is bonded together to make the pillow tank construction by welded the seams together using a High Frequency Welding machine.
Ridge Product Services are able to supply and install pillow tanks in Manchester, Liverpool, Chester, Preston Sheffield, Birmingham, and throughout the UK.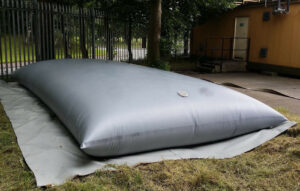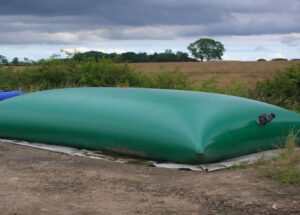 Pillow Tank – Uses
Pillow tanks can be manufactured very quickly to meet time deadlines in most cases. Our pillow tanks are commonly used to store liquids in a variety of applications for a number of industries and markets. Below are just a few examples of where pillow tanks are a highly effective solution;-
• Events, Festivals, Race meetings and Outdoor Concerts – to store drinking water and wastewater
• Mining – to store water from process waste.
• Oil & Gas – to store water from process water.
• Utilities – to store water for drinking and also to store sewage.
• General Public – to store drinking water and rainwater collection.
• Construction – used for storing wastewater and storing drinking water.
There are many reasons as to why pillow tanks are the most favourable option for a number of industries when it comes to water storage. These types of tanks are called pillow tanks because they are collapsible and flexible tanks that resemble a pillow when at fully capacity. One of the main benefits of pillow tanks is that fact that they are ideal for remote locations as they are generally smaller than alternate rigid tanks that takes up a lot of space. Pillow tanks are also portable and can be easily transferred and re-located if this is necessary. Furthermore, these types of tanks have no contact with air and therefore this helps to completely eliminate potential contamination, algae growth, and seepage. Further benefits and reasons why pillow tanks (also known as bladder tanks) are so popular include;-
• Manufactured from highly durable materials making them long-lasting.
• A wide range of compatible pumps, filters and valves available to meet all specifications.
• They also weigh much less than similar capacity rigid tanks.
• Storage space is minimised when not in use.
• Highly flexible storage solution for all kinds of liquids.
What Industries Would Benefit The Most From Pillow Tanks?
Jake Powell
2022-04-15T13:51:55+00:00
We get enquiries from many different industries and markets where pillow tanks are an ideal storage tank solution. The most popular industries that request pillow tanks from us include agriculture, construction, and utilities. If you are unsure where a pillow tank would be best for you, please get in touch and we'll be happy to answer any questions.
Why Choose Ridge Product Services?
Ridge Product Services are one of the best suppliers of flexible storage tanks throughout the UK and beyond. We are proud to provide a unique service that is based around your specific needs and requirements. Although RPS was only formed in 2019, we have had rapid growth and have decades of previous experience working for multi-national companies that no longer supply these products.
Contact Us Today
Looking for more information or your no-obligation quotation? If so, please get in touch with us by calling us directly on 07824 690 143. Alternatively, if you prefer to email, use our contact form and we'll get back in touch with you as soon as possible.
Accessories
All connection and adaptor types including BSP, Camlock
We can fit connections up to 8 inch (200mm) on our tanks (dependant on connector type)
Ground sheets (geotextile groundsheets are provide as standard but we can provide PVC groundsheets for rougher ground)
UV Covers/Dust Covers – This is an additional layer of PVC that fit over the tank to provide additional protection from the elements
Ball valves, elbows, hose tails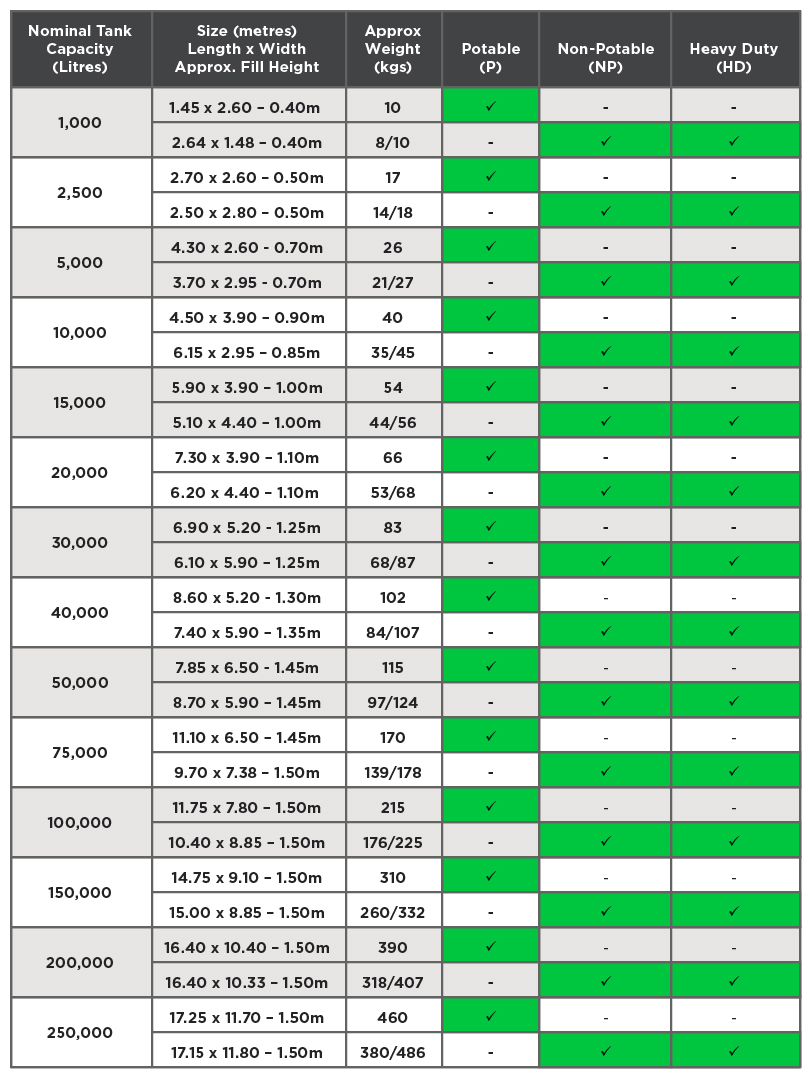 Warranty
We offer a standard one year warranty on all our products for materials and workmanship, this may be extended for a small fee.